"AmeriCorps VISTA is the national service program that works to eliminate poverty. The first VISTAs began serving in 1965 in the migrant farm worker camps in California, the hollows of eastern Kentucky, and the inner city of Hartford, CT. Since then, more than 180,000 VISTAs have served throughout America to expand the capacity of homegrown efforts to address community challenges. 
VISTAS develop initiatives that enable people to become self-sufficient and secure. Our impact is reflected in the hundreds of programs that VISTAs helped launch over the decades, including Head Start, Upward Bound, the credit union system, Habitat for Humanity, and Neighborhood Watch. 
AmeriCorps VISTA is a program of CNCS, the federal agency that improves lives, strengthens communities, and fosters civic engagement through service and volunteering."
- VISTAcampus.gov
The OAFC has 18 year-long VISTAs and 29 summer VISTAs placed in clinics around the state as well as our main office. VISTA members assist clinics in fundraising, grant writing, volunteer recruitment, electronic medical record implementation, and community promotion. They are valuable assets, tackling projects that the clinic or association may not have time or resources for otherwise. Find information about our year-long members below!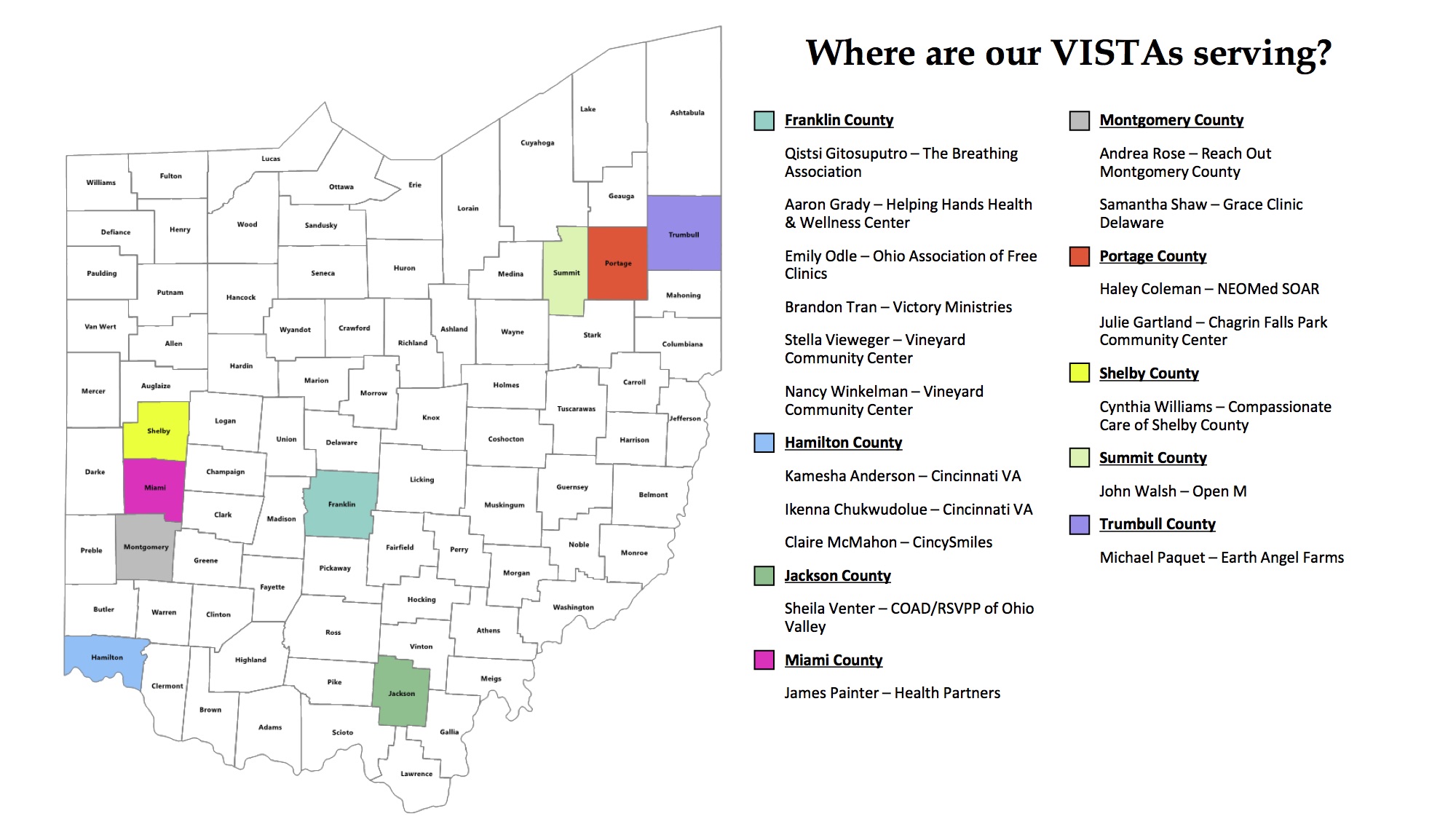 2016/2017 Yearlong VISTA Members
Andrea Rose - Reach out of Montgomery County

Andrea hails from Dayton, Ohio and recently graduated from Miami University with a degree in Nutrition. Andrea had a friend who was an AmeriCorps VISTA member last year and introduced her to the program. She is extremely excited about getting experience working in the health field.

Julie Gartland - Chagrin Falls Park Community Center

In May 2016, Julie graduated with a degree in Biology and minor in Health Systems Management from Loyola University Chicago. Julie was born and raised in Northeast Ohio. She is extremely passionate about working with underserved communities and is excited that AmeriCorps VISTA gives her the opportunity to do so.

Qisti Gitosuputro - The Breathing Association

Qisti graduated from the Ohio State University with a degree in Strategic Communication. She was born and raised in Springfield, IL and moved to Ohio 10 years ago. Qisti really liked the AmeriCorps VISTA program so that she could get experience that will help her in the future.

Claire McMahon - CincySmiles Foundation

Claire is from Cincinnati, Ohio and received a degree in from Xavier University in Psychology and Business. She chose to participate in the AmeriCorps VISTA progam to gain more experience in non-profit work.

Stella Vieweger, Ph.D. - Vineyard Community Center

Stella is originally from Ghana and is passionate about finding sustainable solutions to issues affecting those in poverty. Stella chose VISTA because the program affords a wonderful opportunity to build the capacity of organizations and programs dedicated to empowering low income communities out of poverty.

Brandon Tran - Victory Ministries Center of Hope

Brandon Tran is a first-generation American, born and raised in Columbus, Ohio. After graduating from Case Western Reserve University with a degree in Biochemistry, he took a year from schooling to contribute towards the welfare of his community as an AmeriCorps VISTA. Motivated by the socioeconomic disparities afflicting the residents of Whitehall, Ohio he has resolved to build the capacity of the town's local non-profit organization, Victory Ministries.

Michael L. Paquet - Earth Angel Farm

Mike is a native of Northeast Ohio and is a rather non-traditional AmeriCorps VISTA member working with developmentally and physically disabled individuals at Earth Angel Farm in Trumbull County. He has taught classes on political science and urban studies at the University-level for some time and is interested in building and increasing capacity of beginning farmers through an initiative that promotes agricultural skills in at-risk populations.

John Walsh - Open M

John is serving at Open M, in Akron, where he has been a long-time resident. He attended Miami of Ohio and graduated with a degree in Chemistry. Following graduation, John began volunteering at Open M and met the year one VISTA Member already working at the clinic. Following the completion of the previous service year, John jumped at the opportunity to become an AmeriCorps VISTA Member and continue supporting Open M.

Haley Coleman - SOAR Student Run Free Clinic

Haley graduated from the University of Akron and during her first two years as a medical student at Northeast Ohio Medical University, she worked with several peers to plan and launch SOAR Student Run Free Clinic in Rootstown, OH. The clinic opened in September 2016. Haley is excited to dedicate herself full time this year to serve as an AmeriCorps VISTA at SOAR Student Run Free Clinic to ensure the clinic have the necessary attention to thrive. She is extremely excited to use her passion for people to continue learning how to best tackle the healthcare problems facing rural, underserved area residents of Portage County. She aims to use the skills she gains to better serve her patients in her future calling as a physician.

Samantha Shaw - Grace Clinic

Sam graduated from Ohio University in 2015 with a degree in Communications. She then spent a year as a volunteer for the Church of Scotland serving in low income communities and assisting with community youth projects in Glasgow UK. Sam has moved back to her hometown and is now focusing on non profits, volunteer coordination, and community outreach as she works with Grace Clinic Delaware.

Nancy Winkelman - Vineyard Community Center

I studied History and Intercultural Studies at Cornerstone University. I enjoy research as well as learning about different cultures/traditions and I am hoping to continue on to study anthropology. I recently moved to Columbus, OH with my husband and 4 year old daughter and we are enjoying the rich diversity in our community. I chose to serve as a VISTA this year because I think helping the Vineyard Free Health Clinic expand their capacity to provide access to maternal/infant health and wellness services as well as learning cultural awareness and sensitivity as it pertains to the medically underserved ethnically diverse and immigrant populations is an amazing opportunity.

Sheila Venter - COAD/RSVP of Ohio Valley

Loren is originally from West Virginia but moved to Ohio 2 1/2 years ago. She learned about Vista volunteers this past summer while volunteering in the summer food program. Loren has a Master's Degree in Counseling Psychology, and has been a psychotherapist for years. She joined the Vista program to learn how to do things she has never done before, to get out of her comfort box of skills and gain new skills. Loren's assignment is to start up a free health clinic in Gallia County, and is looking forward to all of its challenges and rewards.

Cynthia Williams - Compassionate Care of Shelby County

Cindy was born and raised in Macomb County, Michigan where she earned her high school diploma and some college; she chose to pursue raising her family. In her 50's Cindy decided to join AmerCorps VISTA because she enjoys serving others through non-profit work with aspirations of starting her own non-profit program.